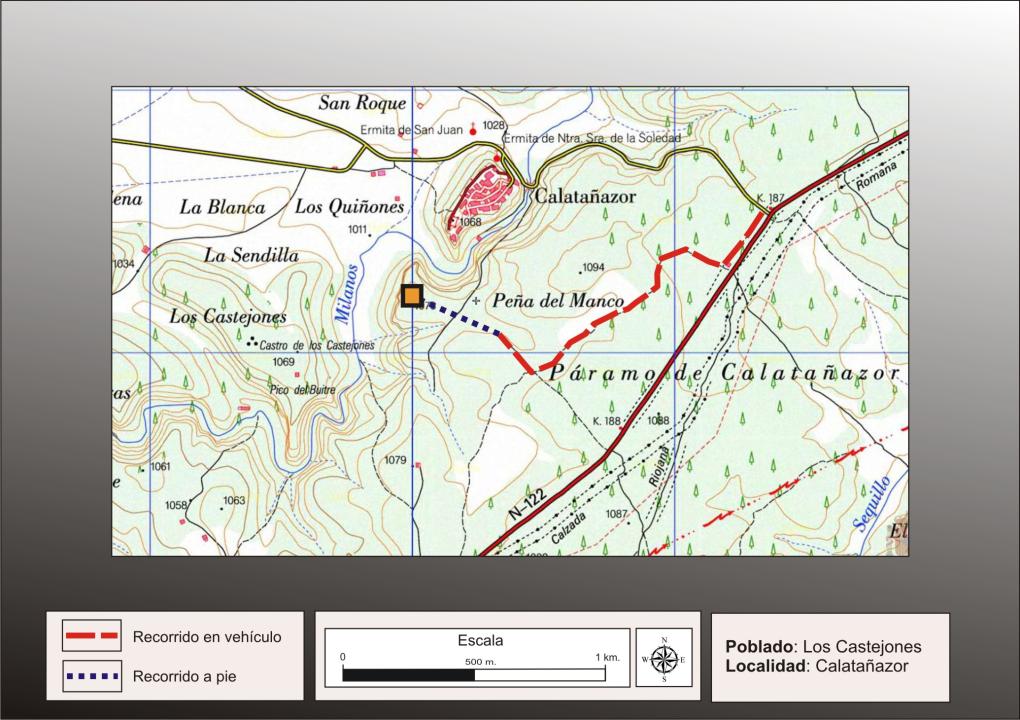 Getting there
From power Calatañazor located under the bridge over the River Milanos, before reaching the village, leaving a trail on the left bank of the river back to the fort.
Research
It was excavated and studied by Blas Taracena, publishing their findings in the report, number 75 of the Superior Board of Excavations and Antiquities, in 1925. The material in this site has been studied subsequently by Ana Carmen Pascual Diez (1991)
Relationship with Voluce
Several authors have linked the settlement with the ancient city of Voluce, mentioned by Ptolemy and the Antonine Itinerary mentions as among Uxama mansion and Numancia. Taracena, who excavated the site in 1924, is inclined to relate these to the ancient ruins Voluce for being "the only road near the place where it should be Voluce" but was surprised the small size of the settlement in relation to Uxama upcoming mansions and Numancia. But more recent work of A. C. Pascual Diez, documents two times of occupation: a second century BC and other tradorromano the centuries IV-V, which questions his relationship with Voluce, cited by the Antonine Itinerary in the third century.
Situation and location
It is situated on the hill fronting the current Calatañazor villa. It is a steep hill in a triangular, which is bounded on the north, east and west by the river's natural moat Milanos, which runs at about 80m below the summit, located at 1.060m above the sea level.
The defensive system
This great defense, is 4.50 m tall and reaching the collapse of his fall 18m thick, extends over the southern part of the hill that is the most accessible from the moor. Is made ??with fine ashlar and regularly confronted. You can see the remains of a staircase, made ??in the wall itself, which descended from the interior of the enclosure to the outside.
You can think of a double defensive enclosure, and that 24m of the wall painting found another parallel to the former.
The interior space
The remains of mud and chunks of mud brick with plaster attached to the wall were interpreted by Taracena, as the remains of houses to the wall
Celtiberica ceramics, made ??a color wheel and oxidant, shows large storage jars and large dishes, consisting of bowls, cups, glasses, jugs and pots lobed, decorated with figurative and geometric themes: birds, spirals, tetrasqueles lines wavy, concentric circles, which keep similarity with those of Numancia, which leads to this village dating to the second century BC
This place, as shown by the presence of Roman pottery and other materials found sigillata, was taken later in an advanced point of the Roman Empire, IV-V centuries.
Contacts and schedules
It is not signposted, free access
Bibliography
Taracena Aguirre, B. (1941): Archaeological Charter Spain. Soria, Madrid.
Pascual Diez, A.C. (1991): Archaeological Charter Soria. Downtown. Diputacion Provincial de Soria, Soria
---