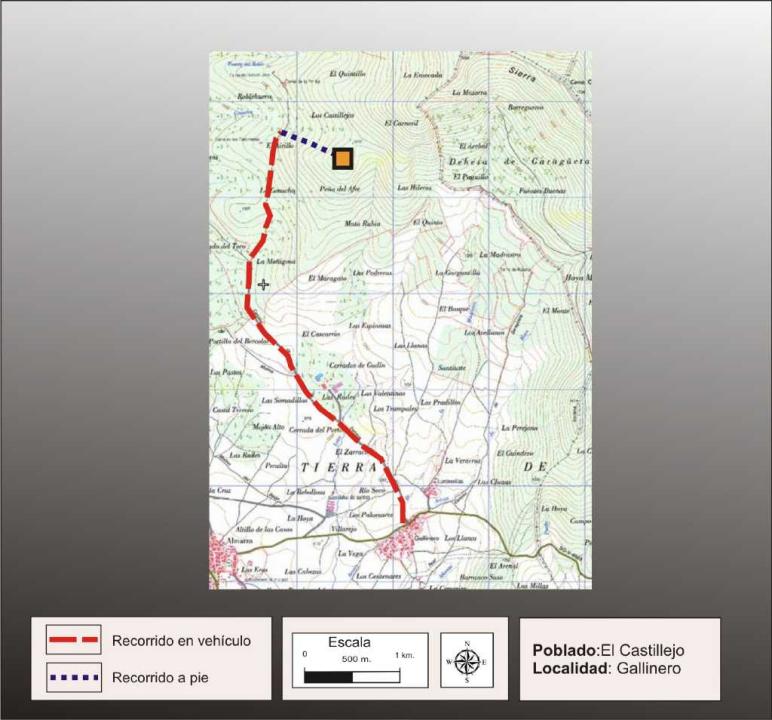 Getting there
You take from the people of Coop la Dehesa Road to the northwest, after a journey of approximately 4.5 km you reach a flock, where after walking aproximadamente1km very steep hill fort is reached.
Research
It was released by Blas Taracena, making further contributions P. Harbison (1968) and reviewed by Fernando Romero Carnicero (1991).
Situation and location
This set in the highest part of the meadow of Coop, about 1300 m high and located about 3 km above the Castro (El Alto de la Cruz)
The Castro
Is oval, with a major axis of 128 m and an approximate area of 8,500 square meters.
"The wall, completely surrounding environment, taking its current collapse about 6 m wide.
Kneeling stone-Strip, is visible in front of the wall, in Lazona naturally defended worse, the rock band bowing feature, measuring about 5 m wide.
-The Pit: Between the stone barrier wall bowing and there is a depressed area that must correspond to the pit, created by the quarrying of stone for the wall.
The interior space and chronology
Inside the fort we found no remains of stone walls, so the presence of abundant coal Taracena was to interpret these remains as from log cabins, a settlement for the VI-IV centuries BC
Contacts and schedule
The road is signposted, the lineup has explanatory and access is free.
Bibliography
Taracena Aguirre, B. (1941): Archaeological Charter Spain. Soria, Madrid
Romero Carnicero, F. (1991): The forts of the Iron Age in the north of the province of Soria. Studia Archaeologica, 80, Universidad de Valladolid, Valladolid.
Benito, J. P., Tabernero, C., Sanz Aragones, A., Guillen Lopez, R. (2006): Pelendones. Celtic hillforts in the mountains north of Soria. Soria
---