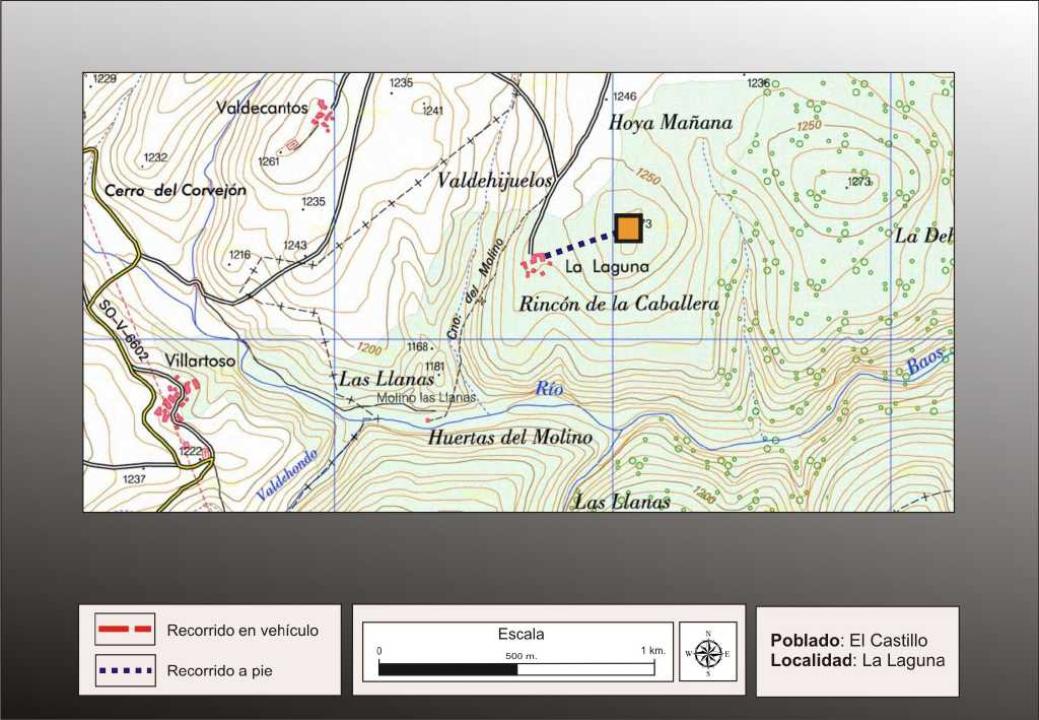 Getting there
This great town is at the top of a large agricultural platform that descends from the east to the town of Laguna
Research
This settlement was collected by P. Pascual and H. Archaeological Pascual in the letter that made ??the river Cidacos (1984) and has subsequently studied Eduardo Alfaro Peña in his work on ancient settlement patterns within the Iberian System (2005).
Situation and location
It sits about 500m from the River Beam on a broad rounded ridge (about four hectares), slightly prominent, but with a large visual domain on the environment.
Defensive System
Was equipped with a wall adapted to the land, which remains of its collapse in the west, north and east, made ??with slabs of local limestone, dry locked. The northern sector remains a small section of the original front of the wall, which is esteemed for its trapezoidal section, with the outer face slightly towards the interior, has been calculated in this zone thickness of 3.50 m.
The wall would be reinforced with a tower on the northwest corner, which would explain it more dimension and power. Two other towers could have been built to strengthen the defense, one outside the walls, a few meters north of the canvas and a third tower could explain the large landslides associated with the southwest entrance.
The northern access is reinforced with a pit dug into the rock, an 8m wide and 4m deep, to save it has a corridor or bridge of some 3-4m wide. Among moat and wall is a corridor running around about 3m wide.
The interior space
Within the enclosure were found the remains of rectangular houses room, with compacted dirt floors of stone and adobe screed, possibly attached to the wall, with signs of having been burned.
We found abundant remains of tools and some hand-made ??pottery, but most are made ??around Celtiberian: cups, bowls, graters, jars, large jars, cups, funnels and more. Sometimes they decorated with paint-based black stripes, concentric semicircles, wobbling and other reasons. These data allow linking this town with Numancia and place in the second century BC
Contacts and schedule
It is not signposted and access is free.
Bibliography
Alfaro Peña, E. (2005): Castillejos and Villares, Edita Soria, Madrid.
---