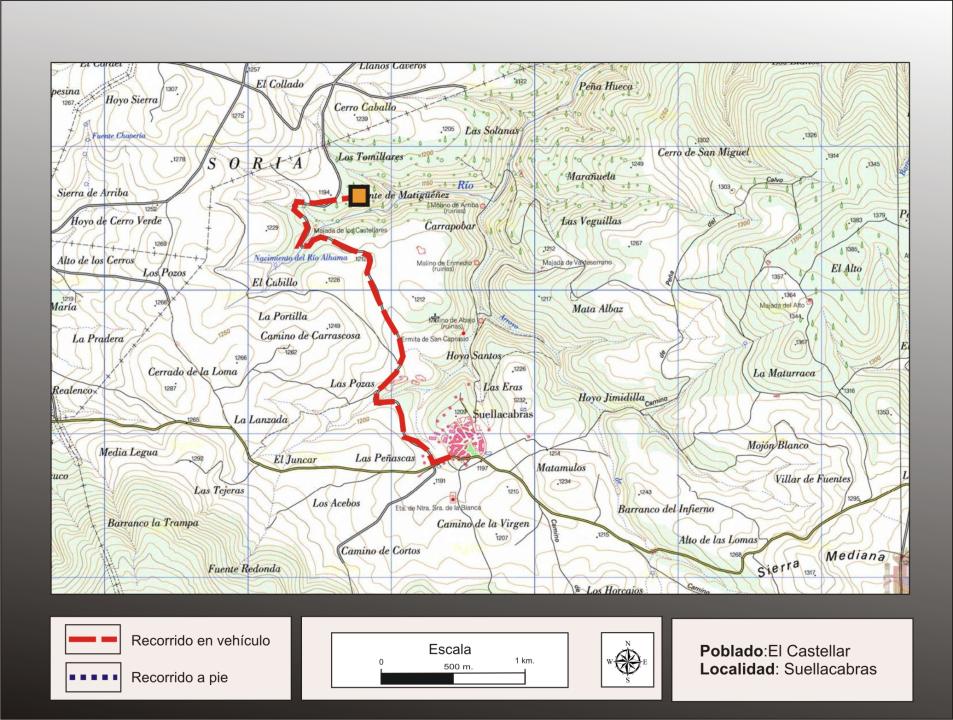 How to get there
The people out on a track to the north, after crossing two wide valleys, to trace the second is a path right next to the site which continues until the source of the river Alhama.
Papers
made a small excavation inside the town, Blas Taracena, publishing the results in memory No. 75 of the Superior Board of Excavations and Antiquities (1925).
Situation and location
wilderness is two miles north of the village on a hill triangular, the sides steep slope north-east and South-South.
Defensive system
triangular shape is defended on all sides by a wall, being more potent in its most accessible. It occupies an area of 19,500 square meters. The wall extends for a length of 162 meters and measures in its collapse between 7 and 10 meters and has three walls, two outer slightly inclined inward and another inmate, as a spine to reinforce the work that persists between 4 and 5 m in height.
Interior space
Excavations uncovered a piece of street paved with flagstones and several rooms with walls of small appliances, well-cut. Below the wall crossed two drains for sanitation. Associated with these homes were collected Celtiberian type red pottery and Roman Republican coins, which indicate a time for the settlement of III-I centuries BC
Contacts and times
Signposted and access is free.
References
Taracena, B. (1941): Archaeological Charter Spain. Soria , Madrid
---