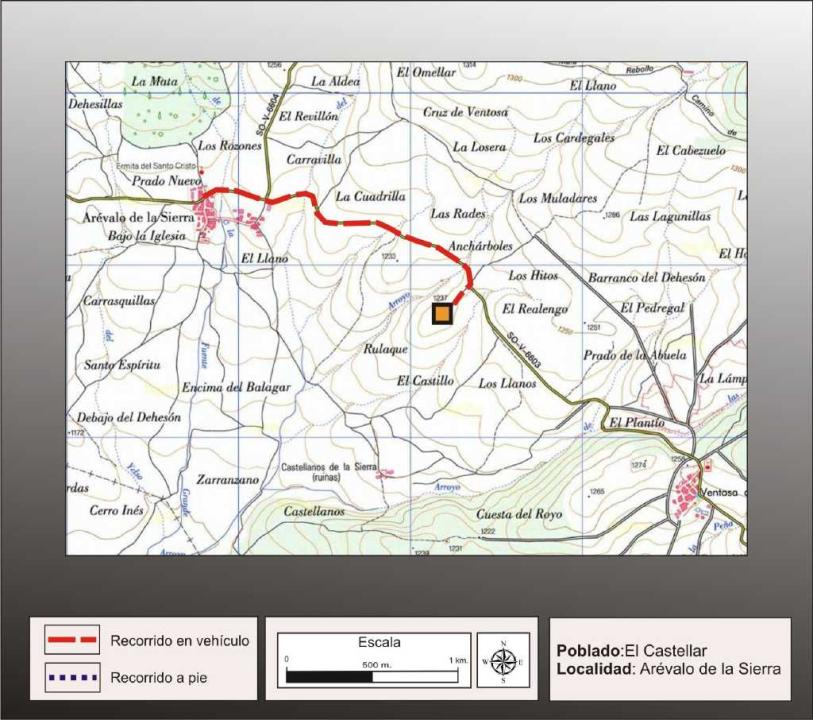 Getting there
Can be reached from Almarza, taking the provincial road that connects the N-111, with the N-115, which accesses the port of Oncala. Passed by Coop and Arevalo de la Sierra and right of the road between this town and Ventosa de la Sierra, almost midway between the two peoples, is the hill of El Castellar and also identified as El Castillo.
Research
Was released and made Blas Taracena excavation in 1929 and later made contributions M. Fernandez Miranda (1972) and F. Rosemary Butcher (1991).
Situation and location
It is located southeast of the village, in a low lying hill. It is oval, with long axes of 232 and 145 m, with an area of 18,000 square meters.
Defensive System
He was surrounded by a wall of its foundations are preserved, 1.50 m thick, dry ridge made two meters closer to the outside by an embankment covered with dry stone, 80 cm thick, placed a blight.
Interior space and chronology
The rooms are rectangular or trapezoidal side by side, were attached to the wall and arranged radially and further into the village were discovered more than other rooms, plants also irregular or workbench.
Potsherds were collected brown, hand-made, smooth and decorated with fingerprints and strands, also machined with geometric red circles or red stripes. This town has been dated in the IV-II century BC
Contacts and schedules
It is not signposted and access is free.
Bibliography
Taracena Aguirre, B. (1941): Archaeological Charter Spain. Soria, Madrid
Romero Carnicero, F. (1991): The forts of the Iron Age in the north of the province of Soria. Studia Archaeologica, 80, Universidad de Valladolid, Valladolid.
---